Argentina's Vaca Muerta shale patch could produce 1 million bpd in 2030, but hurdles remain
Crude oil production from Argentina's burgeoning shale patch, Vaca Muerta, could surge in the coming years and top 1 million barrels per day (bpd) by the end of the decade – but only if takeaway capacity and rig availability do not limit growth. Rystad Energy's modeling shows that if production is relatively unimpeded, oil output could realistically grow from 291,000 bpd in February 2023 to more than 1 million bpd in the second half of 2030.
The forecast growth could lift Vaca Muerta's profile and position it as a leading source of shale production, alongside the likes of the Bakken or Eagle Ford developments, two of the US' world-class shale basins. It would also help the Neuquen region become a net oil exporter, potentially contributing $20 billion in total revenue by 2030. These increased crude exports will make their way to South American neighbors Brazil, Chile and Peru, as well as the US and Europe.
Still, big question marks remain, which could potentially alter our long-term growth outlook. Takeaway capacity constraints linger, and rig availability remains an ongoing concern. The learning curve for operators in the basin has been steep, and they will need to continue this trend to maximize their production potential. If all industry participants work together to address these constraints before they become critical, output could top 1 million bpd sooner rather than later.
''Vaca Muerta could hold the key to Argentina's future energy economy following more than a decade of oil production declines. While major challenges lie ahead, reaching the important 1 million barrels per day threshold would change the country's narrative, reduce its reliance on imports and become a key regional and global oil market player. ''
Alexandre Ramos Peon, head of shale research, Rystad Energy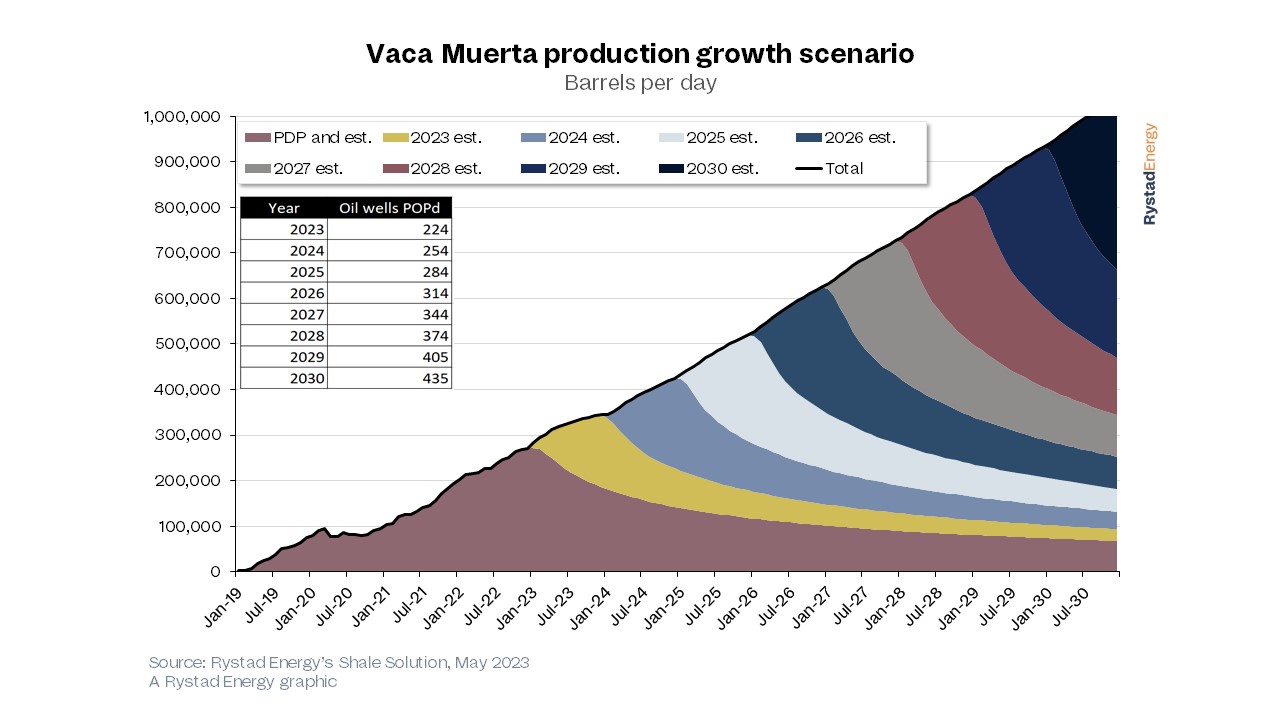 State of the play
As of February, Vaca Muerta's gross oil production reached 291,000 bpd, an annual addition of 76,000 bpd. Production from majors – Shell, Chevron, ExxonMobil, and TotalEnergies – increased by 62% in 2022 compared to 2021, followed by other local and international players and YPF, the nation's state-run giant. Gas output from other local and international players (excluding Tecpetrol) and YPF grew 63% and 43%, respectively, followed by majors and Tecpetrol. In February, daily gas output rose to 1.84 Bcfd (billion cubic feet per day), 15% more than the same month in 2022.
Vaca Muerta's production growth is impressive but not extraordinary, considering it remains a relatively young development. Significant regional developments started just a few years ago and accelerated in 2021 as the industry recovered from the Covid-19 pandemic.
Path to 1 million bpd
Rystad Energy has modeled a theoretical scenario based on existing trends and technologies to forecast total oil production from the shale patch until the end of 2030. In this scenario, we assume new wells that start production from now onwards have the same performance per foot as the average completed and put-on-production (POP) in 2021-2022; oil production from gas wells is negligible; capital re-investment is assured until 2030; linear growth in POP activity in 2023 and onwards. For the operators, we assumed that they adopt two-mile laterals gradually within the next three years. Finally, we considered no downturns in the oil industry, global pandemics, significant macroeconomic changes or political unrest in Argentina until 2030.
While concerns around growth persist, there are no issues with the quality of Vaca Muerta's shale oil or its capacity to produce hydrocarbons at scale (after proper stimulation). Its shale is distinguished by its high pressures and substantial thickness. Its oil yield per foot is demonstrably superior to similar horizontal wells in major US shale plays.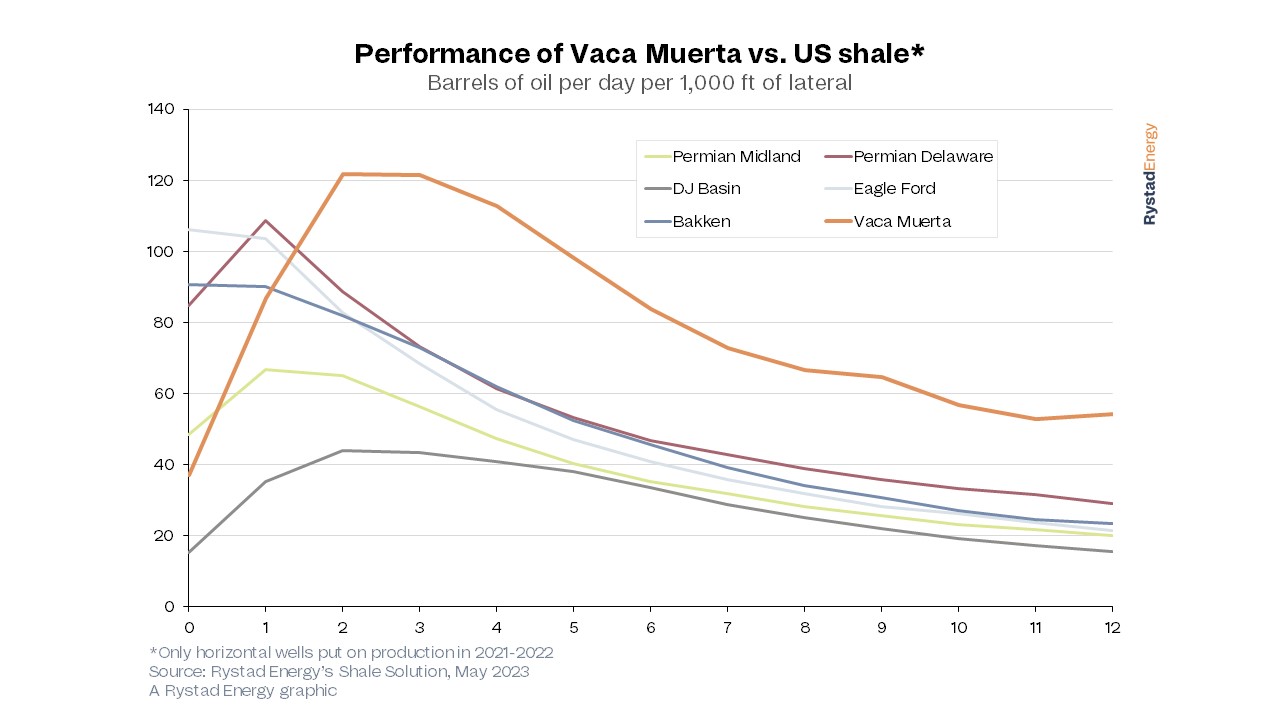 Since the development of the play is relatively new, operators needed a period to adapt and find the 'sweet spots' when drilling and completing wells. For instance, Vaca Muerta operators have adopted US shale's proppant intensity and stage spacing trends in just a few years – going from 1,500 to 2,500 pounds of proppant per foot and from 250 to 210 feet stage spacing between 2018 to 2022. Additionally, simul-frac operations have been adopted by YPF and Pan American Energy, while Vista has created its first 'hub,' which processes hydrocarbons from two of their primary fields.
The next step for Vaca Muerta operators is to standardize using two-plus mile laterals. The caveat is that normalizing extended-reach wells requires drilling contractors to bring into the region high-spec rigs capable of handling that level of workload. This brings us to the first significant bottleneck that could upset Vaca Muerta's growth potential.
With about 30 active rigs and an average drilling speed of 1.1 wells per rig per month, Neuquen's Vaca Muerta could expect up to 400 new drilled wells in a year. Assuming the 70-30 oil-gas well completions ratio of 2022, the maximum possible number of oil wells drilled per year will, therefore, be 280. This ratio could, however, change soon, with the President Nestor Kirchner gas pipeline starting operations in June. If no new rigs are brought into the region, Vaca Muerta's growth rate is set to slow in the next couple of years. Bringing in high-spec rigs could improve drilling rates to less than 20 days per well, like in the Permian Delaware and Bakken.
Neuquen's oil takeaway capacity is saturated, but several projects are due in the short term. If all these projects materialize as announced, Neuquen should have more than 1 million bpd of evacuation capacity by 2025. It is worth noting that if Argentina wants to become a net oil exporter, the Puerto Rosales oil export terminal in Bahia Blanca – Buenos Aires operated by Oiltanking Ebytem might need to expand in the short term to keep up with Neuquen's volumes.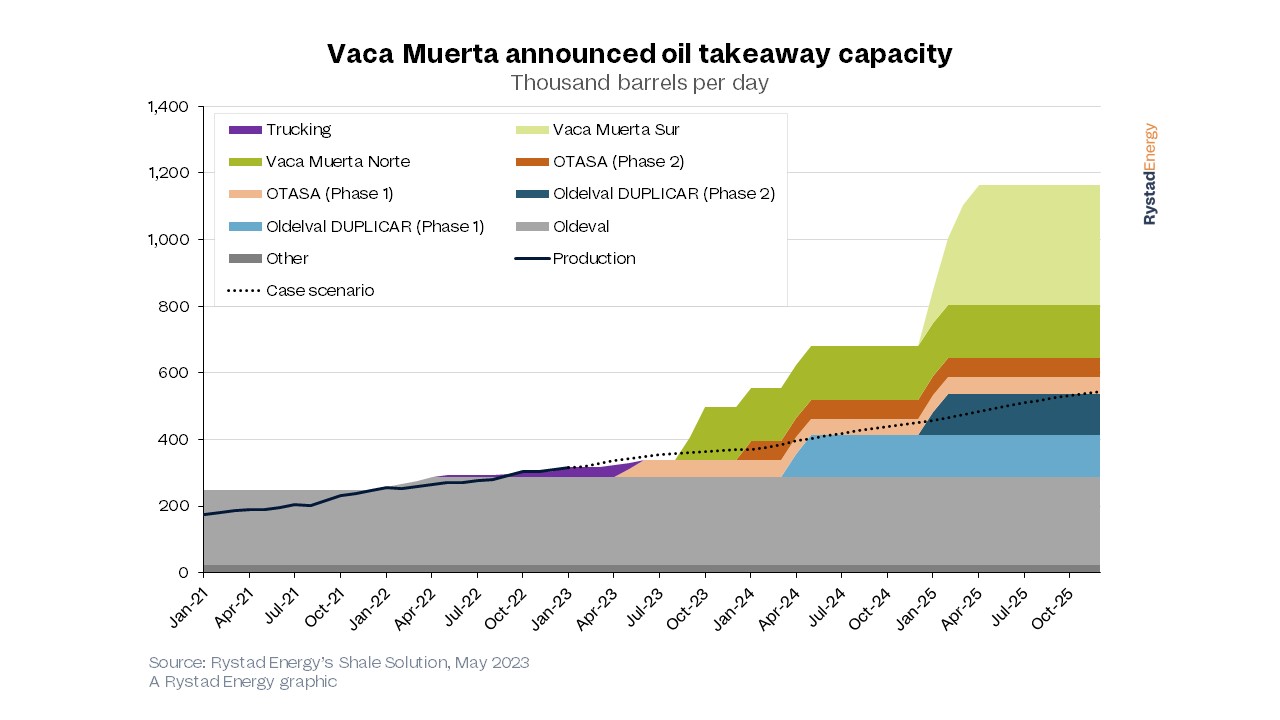 Source: Rystad Energy