Drewry's new operational metrics help quantify multiple risks, particularly for shippers
Drewry's new weekly analysis of AIS data on cancelled sailings and spot market freight rates intelligence signal major areas of concern for shippers. Combined new data enables early anticipation of, and identifies measures to help mitigate risks.
Three of the weekly market volatility metrics now tracked by Drewry Supply Chain Advisors give insight into dramatic developments in the container shipping market which adversely affect the operations of all shippers and forwarders.
Volatility metrics (updated weekly):
• Containership Cancelled Sailings
• Port Waiting Times
• Spot market freight rates (Drewry World Container Index).
Drewry summary snapshot of 3 market volatility metrics
Looking at each of the 3 volatility metrics, in turn:
Cancelled sailings – 03 April
20% of scheduled sailings on the transpacific and Asia-North Europe/Mediterranean have been cancelled, about twice as many as in March, as the impact of Covid-19 on maritime commerce increases. Drewry urges shippers to consider the capacity and lead time effects and to select sailings based on the latest data on the incidence of cancellations by alliance and by week. Cancelled Sailing Tracker.
Ship waiting times – 03 April
Average ship waiting times at 6 major ports were about 32% below normal during weeks 13 and 14, indicating a fall in port activity. Ship waiting times in Shanghai, the world's top container port, were longer than normal. Ship Waiting Time Tracker.
Spot freight rates (World Container Index) – 02 Apr
The World Container Index assessed by Drewry, a composite of container freight rates on 8 major routes to/from the US, Europe and Asia increased by 0.3% to $1,530.12 per 40ft container this week (updated Thursday, 2 April 2020). World Container Index.
Combined Weekly Report
Drewry also publishes a more detailed weekly Containership Cancelled Sailings and Waiting Time (Combined) Report. The combined weekly report includes waiting times against 44 global ports and cancelled sailings by the main alliances by trade route (with monthly and weekly breakdown).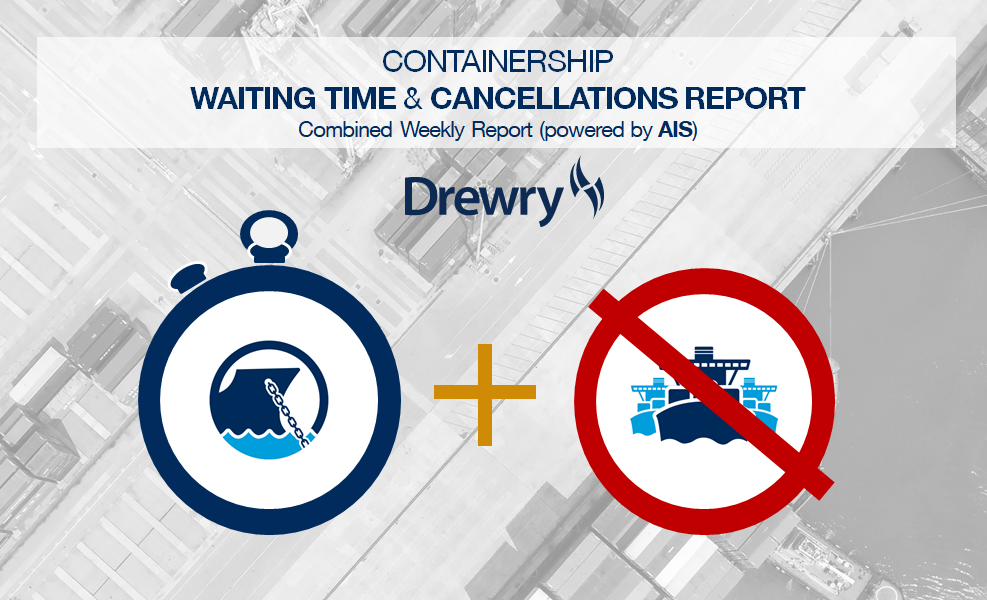 Source: Drewry