First LNG-Powered Containership Reaches Saudi East Coast
King Abdulaziz Port created history by welcoming CMA CGM SYMI, making the Dammam-based hub the first on the Kingdom's East Coast to receive a Liquefied Natural Gas (LNG)-powered container vessel.
Boasting a capacity of 15,400 TEUs and spanning a length of 366 meters, a width of 51 meters, and a draught of 16 meters, CMA CGM SYMI has been running on clean energy since entering service in 2022, reflecting the maritime industry's growing intent to go carbon-neutral across its operations.
The vessel's arrival is testament to the world-class abilities of King Abdulaziz Port and its terminal operator Saudi Global Ports (SGP) that make it a highly sought-after destination for trade and logistics by container giants such as CMA CGM. With a strategic location at the crossroads of three major continents, the Saudi ports sector is well-equipped to strengthen global supply chains and lead a sustainable future across the shipping landscape in line with the ambitions of the National Transport and Logistics Strategy (NTLS), as well as the objectives of the Saudi Green Initiative that pledges to reduce 278 million tons of carbon emissions every year by 2030.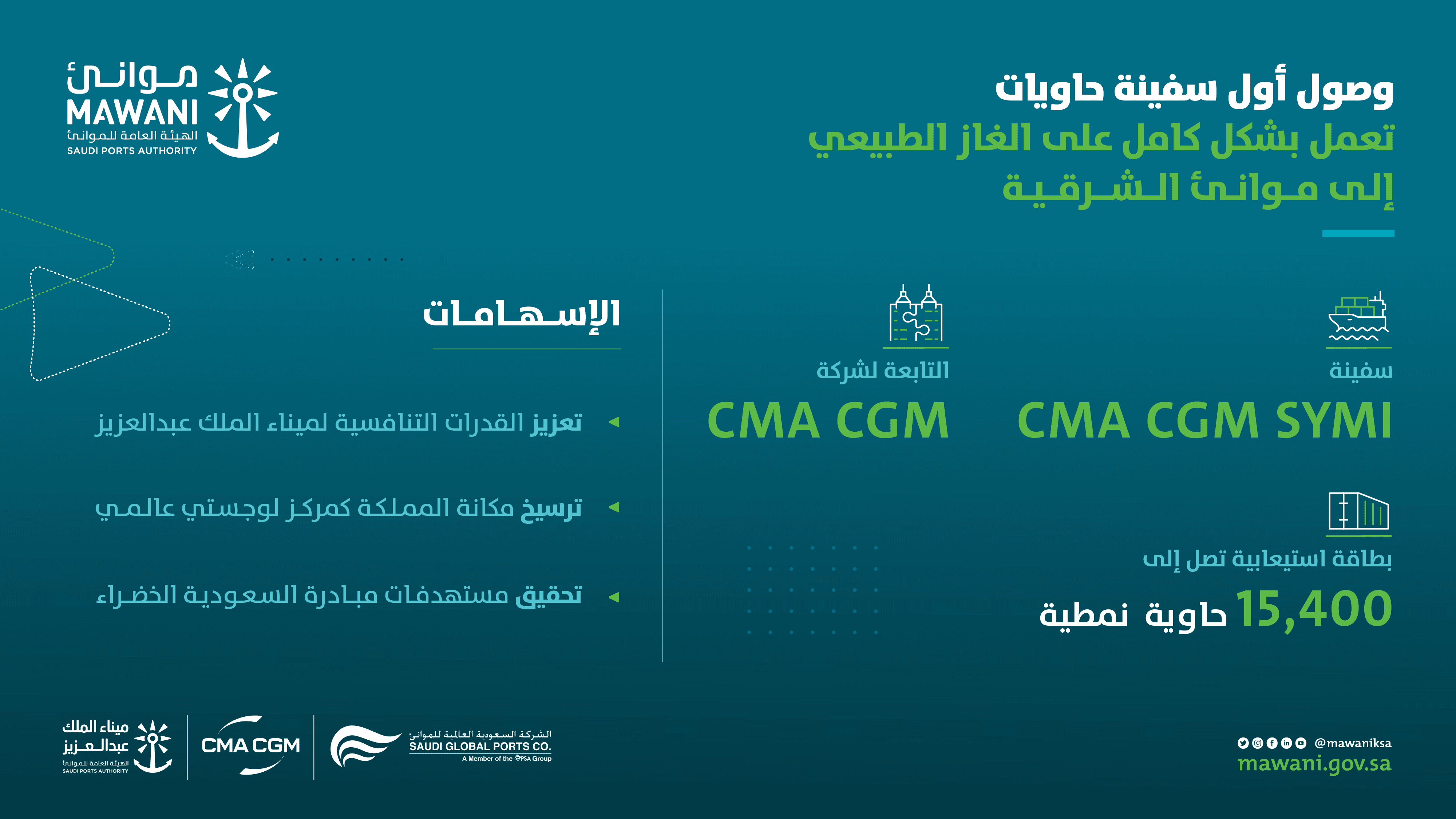 LNG powered vessels are no strangers to Saudi shores, with mega containership CMA CGM Jacques Saade having docked at Jeddah Islamic Port in the year 2021. The largest boxship to run on LNG in the world, the groundbreaking vessel features a capacity of 23,000 TEUs, a length of 400 meters, and a width of 61 meters.
Source: Saudi Ports Authority