Japan's exports and core machinery orders recover
Imports grew faster than exports, deepening the trade deficit in July
Exports rose 19.0% year-on-year in July (vs 19.4% in June), a bit higher than the market consensus of 17.6%. Auto exports to the US and semiconductor exports to China were particularly strong. Meanwhile, imports jumped 47.2% in July (vs 46.1% in June), also above the consensus forecast of 45.5%, mainly led by the high cost of commodities.
Still, as global oil prices have dropped since June, we expect the trade deficit to narrow, with import growth decelerating. Also, auto exports are expected to improve as the production of other major automakers continues to increase. Thus, the contribution of net exports to GDP will likely record a small gain in 3Q (vs 0.0% in 2Q).
Trade deficit widened in July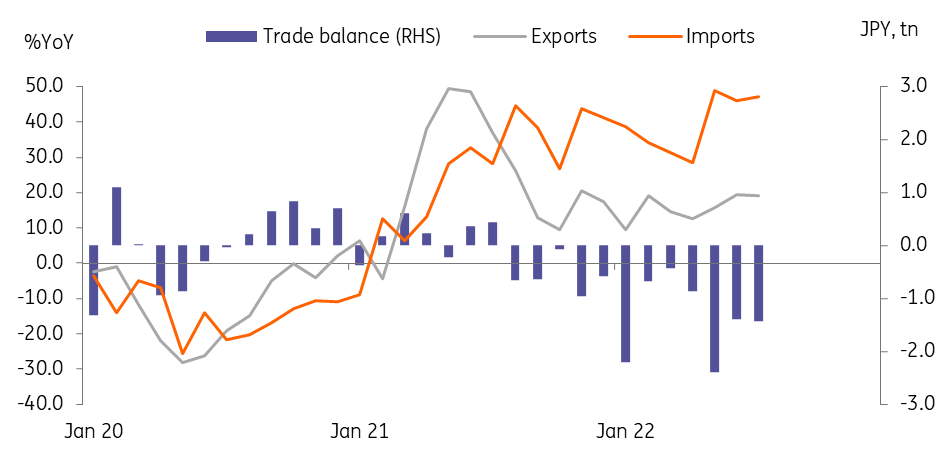 Core machinery orders rebounded slightly in June
A leading indicator of capital spending, core machinery orders rose 0.9% month-on-month seasonally-adjusted in June (vs -5.6% in May), slightly missing the market consensus of 1.0%. In the second quarter, core machinery orders rebounded firmly by 8.1% quarter-on-quarter sa (vs -3.6% in the first). Thus, we expect Capex investment to improve in the rest of this year, with growth momentum slowing gradually. Auto and electrical machinery orders increased as global supply bottlenecks and China lockdowns eased while semiconductor manufacturing equipment orders fell for the first time in three months.
Source: ING