Staying compliant with RISQ 2.0 for welding safety
Both pressure regulators and flashback arrestors are vital tools in enhancing the safe use of compressed gases like oxygen and acetylene on ships.
Pressure regulators reduce high cylinder pressures to safer levels while flashback arrestors stop reverse flow and flashbacks. The risk of fire due to incorrect use of compressed gases and equipment must be avoided at all costs. Fires or explosions onboard vessels are especially dangerous as they can, in the worst case, destroy an entire vessel and cause harm to the crew.
The RightShip Inspection Ship Questionnaire (RISQ) was recently updated with new guidelines on equipment use to further improve Bulk Carrier safety.
RISQ 2.0 update – what does the change mean for welding safety onboard Bulk Carriers?
In June 2022, RightShip issued the new RISQ 2.0, which states that pressure regulators and flashback (flame) arrestors should be inspected annually, and the inspection data logged, and that they should be replaced every five years. This follows the recommendation of the British Compressed Gases Association's Code of Practice CP7 guideline. Manufacturers' advice should also be considered.
Furthermore, all AC-OX Gas Distribution System piping and hoses should be colour-coded as follows, i.e., blue for oxygen, red for acetylene. The AC-OX twin gas hoses must be approved with the appropriate EN standard marking. Twin gas hoses should also be crimp-fitted or fitted with "Clamp 1 Ear" type clamps for all joints.
A Non-Return Valve (NRV) or flashback arrestor must also be fitted before torch connection. With safety and compliance in mind, ship owners should always select equipment from reputable suppliers.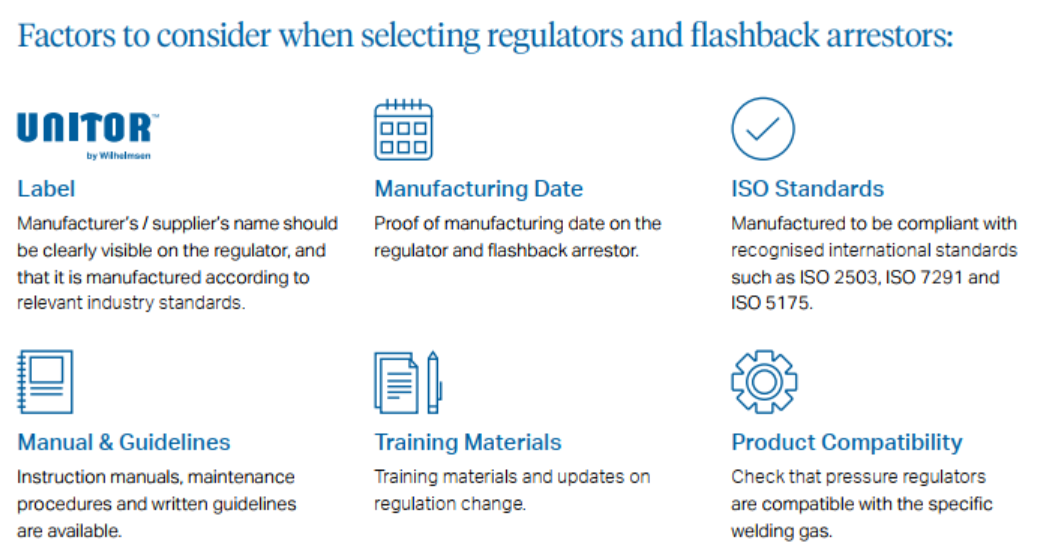 Helping you stay compliant with RISQ 2.0 for welding safety
Welding Safety Inspection (WSI)
Our Global Port Service Engineers provide an annual inspection service to help you ensure safe management of welding equipment and accessories onboard your vessels
Compliant Products
Through our global network we provide easily available, high-quality welding and cutting products that are safe and compliant with maritime regulations and requirements including SIRE 2.0.
Global Technical Support
Members of our global technical support team are always on hand to help you with technical and product enquiries, as well as providing advice on Welding Standardization.
Trusted and reputable supplier for all onboard welding and cutting solutions
Our portfolio of Unitor™ welding and cutting equipment is fully compliant with all maritime regulatory and international requirements, promoting crew safety and peace of mind for customers worldwide.
Source: Wilhelmsen