US consumer caution lingers on
Core retail activity hints at a softening trend
US retail sales rose 0.3% month-on-month in August, much better than the 0.1% fall that was expected, but there have been quite a few revisions to the history that hint of a softer trend in spending. Moreover, the control group, that excludes volatile items such as autos, building supplies and food service, which better matches broader consumer trends as measured within GDP, was considerably softer than predicted. Spending was flat on the month rather than rising 0.5%, while July's figure was revised down to growth of 0.4% having initially been reported as +0.8%.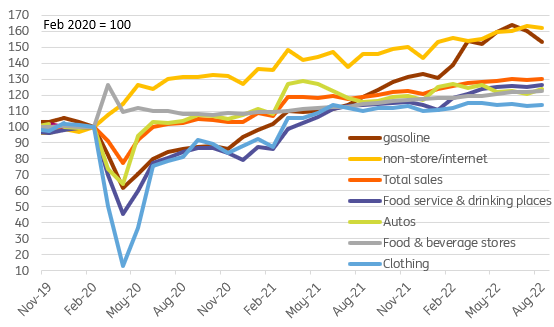 US retail sales levels versus pre-pandemic
The detail show gasoline station sales falling 4.2% given the steep price falls, but the furniture (-1.3%), electronics (-0.1%) health/personal care (-0.6%) and non-store retail (-0.7%) also fell. On the positive side, eating and drinking out rose 1.1%, in line with restaurant dining data, while building materials rose 1.1% and miscellaneous stores posted a 1.6% gain. Auto sales rose 2.8%, despite lower volumes numbers, underscoring what we saw within the CPI report that vehicle pricing remain robust.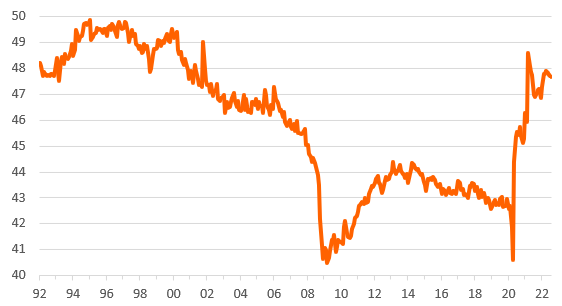 Consumer spending is broader than retail, but 75bp still favoured next week
Looking at the report it is a mixed picture and is likely to see GDP growth expectations for the third quarter revised down a little. Nonetheless, we must remember that consumer spending isn't just retail. Consumer services are a bigger component of overall spending and total spending should outperforming retail. After all retail sales are currently 48% of consumer spending versus 43% before Covid so there is scope for a rebalancing.
Retail sales as a proportion of total consumer spending
Still, with consumer confidence remaining weak as a result of the squeeze on spending power from inflation, falling equity markets and surveys suggesting growing nervousness on the state of the property market, we continue to favour a 75bp hike from the Federal Reserve rather than 100bp.
Source: ING