US retail sales flat in July, but August spending set to surge
We hoped falling gasoline prices would lift retail spending in July, but this wasn't the case. Nevertheless, the data still points to a healthy start to the quarter. The cash flow boost from lower gasoline prices will provide a major boost to spending in August, with stronger auto sales also set to lift growth. Third-quarter GDP growth of 3% looks possible
Mixed news from the retail sector
July US retail sales are a little softer at the headline level than the market expected (0% growth versus the +0.1% consensus) while June's growth was revised down to 0.8% from 1%. That said, gasoline station sales fell only 1.8% despite big falls and anecdotal evidence of less summer driving, while clothing was down 0.6%, auto sales were down 1.6%, and general merchandise dropped 1.7%. However, non-store retail jumped 2.7%, boosted by a successful Amazon Prime day, miscellaneous rose 1.5%, and building materials increased 1.5%. The net result for the "control group", which strips out the volatile food service, auto, gasoline and building supply components, and historically better tracks broader consumer spending, actually rose a bit more than predicted, up 0.8% versus the 0.6% consensus.
Level of US retail sales by component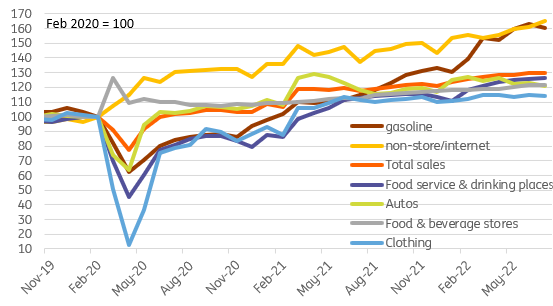 Lower gasoline prices and stronger auto production should boost August spending
It's important to remember that this is a dollar value figure so falling gasoline prices are dampening the headline, but on balance we are a little disappointed, having hoped to see a larger fall in gasoline station sales that would have led to stronger spending increases in other components. Gas price changes are like tax changes – lower gasoline prices leaves more money in peoples' pockets to spend on other goods and services.
Gasoline prices have now dropped for 64 consecutive days (from $5.02/gallon on 13 June to $3.94 today) according to Bloomberg data on national averages, which means Americans are spending $400m less per day filling up their vehicles' tanks. Consequently, we should expect to see an even bigger shift in spending away from gasoline stations to other components in the August report. The big increase in July auto production reported yesterday, where there is huge unsatiated demand, also points to a very firm August (excluding gasoline) sales number.

Consumer spending is much broader than retail sales
Moreover, consumer spending is much broader than retail sales alone. Households are spending more on leisure and hospitality as spending reorientates back towards services and away from goods. This still has a long way to go with retail sales set to underperform broader spending trends over the coming quarters – we look for it to drop back from the current 48% of total consumer spending and move towards pre-pandemic levels of 43% of total spending.
Retail sales as a proportion of total consumer spending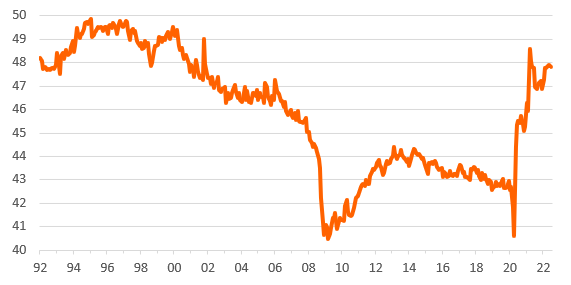 3% GDP growth looks possible
Add in the support from ongoing employment gains and accumulated savings through the pandemic, and we should expect a strong contribution from consumer spending in third-quarter GDP. We also have early evidence suggesting that trade will be additive and inventories less of a drag, while yesterday's firm manufacturing data adds to the optimism. Taking everything into account, we think 3% annualised growth is definitely on the cards.
Source: ING