Vaccinations point the way to energy demand recovery
The Plague, Albert Camus' classic novel about an outbreak of bubonic plague, evokes brilliantly the tension in the city as the epidemic seems to be in retreat. People are desperate for the lockdown to end, but "the terrible months they had lived through had taught them prudence". That is roughly the position the world is in now with Covid-19: the availability of vaccines is building hopes that the pandemic can be beaten, but in many countries infections and death rates are still high.
Oil prices fell sharply this week, with Brent and WTI crudes dropping 8% on Thursday alone. By Friday morning, Brent was trading at about $64 and WTI at about $60 a barrel, both down about $6 since Monday. The falls were said to have been caused by a continued rise in US commercial crude inventories, and a stronger dollar. Oil prices have risen sharply since November, and were due for a correction.
Behind the volatility of crude prices, however, the foundations of a post-pandemic recovery in energy demand are taking shape. Worldwide, the numbers of new Covid-19 cases and deaths reported to the World Health Organization are well down from their levels in late 2020 and early 2021, although new cases have picked up somewhat in recent weeks. The number of vaccinations each day has been rising steadily: this chart from Our World in Data shows the rolling seven-day average number of doses administered each day.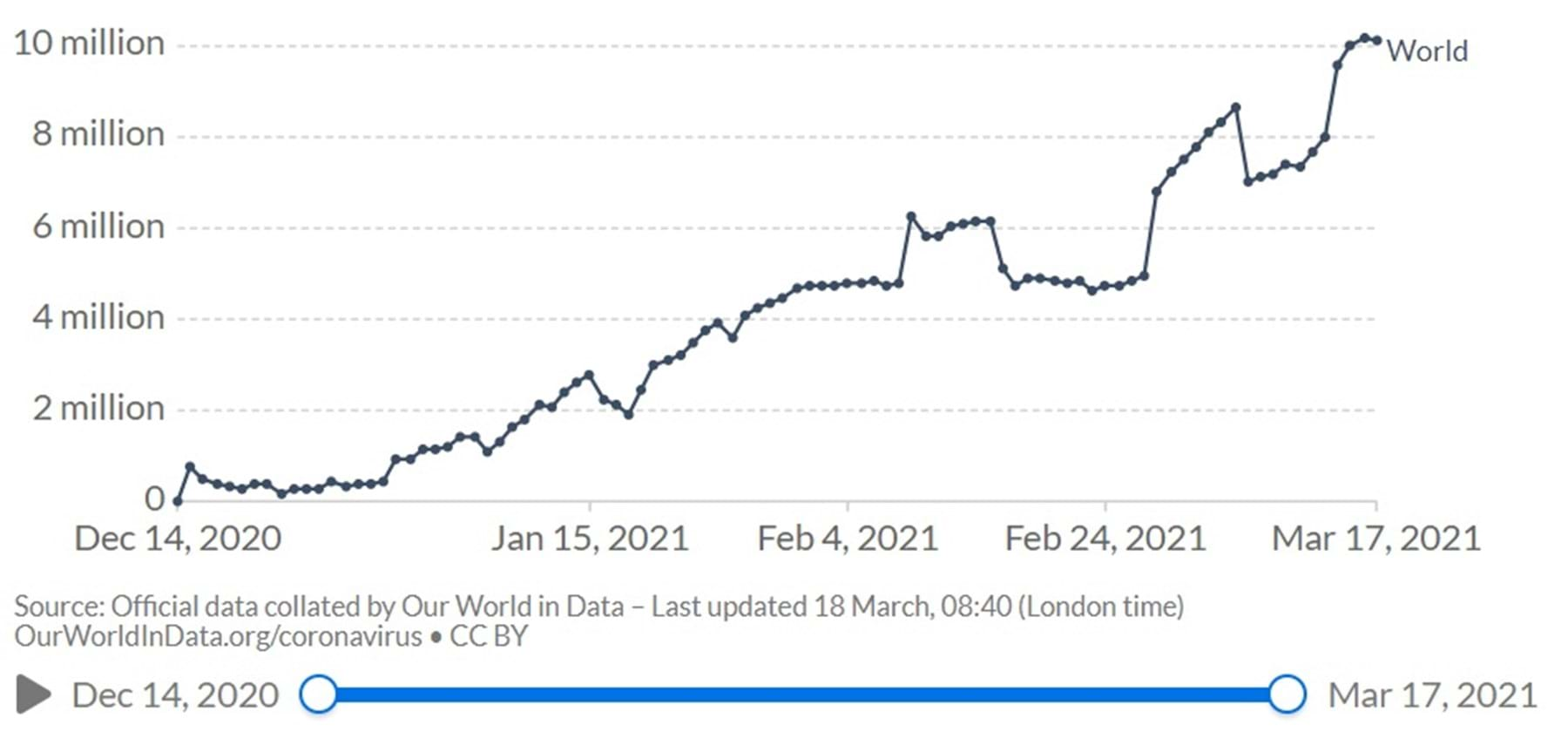 That number is expected to keep growing. The eligibility criteria for vaccination are being steadily expanded, and governments are promising that availability will continue to expand. President Joe Biden, for example, said earlier this month that by 1 May, every adult in the US would be eligible for vaccination.
It is still too early to be certain that the vaccination campaign is bringing down rates of infection. Medical experts typically describe early evidence as "encouraging" rather than conclusive. There are holdups to vaccine supply in some places. In some countries that have been slower to vaccinate, including Germany and Brazil, infections are rising sharply. Variant viruses also complicate the picture. Even Israel, which has been the most successful country in vaccinating its population, is not yet thought to have reached "herd immunity". However, the number of infections in Israel has been falling fast, and the country has begun a phased reopening.
Some indicators of economic activity and mobility are already starting to pick up. The number of commercial flights worldwide has risen to just over 73,000 a day; still down about a third from pre-pandemic levels in 2019, but the highest for about 12 months apart from Christmas week last year. Apple's mobility tracker, measuring searches for directions, shows activity in the US and Europe well below its peaks during the lull in Covid-19 cases last summer and autumn, but rising in 2021.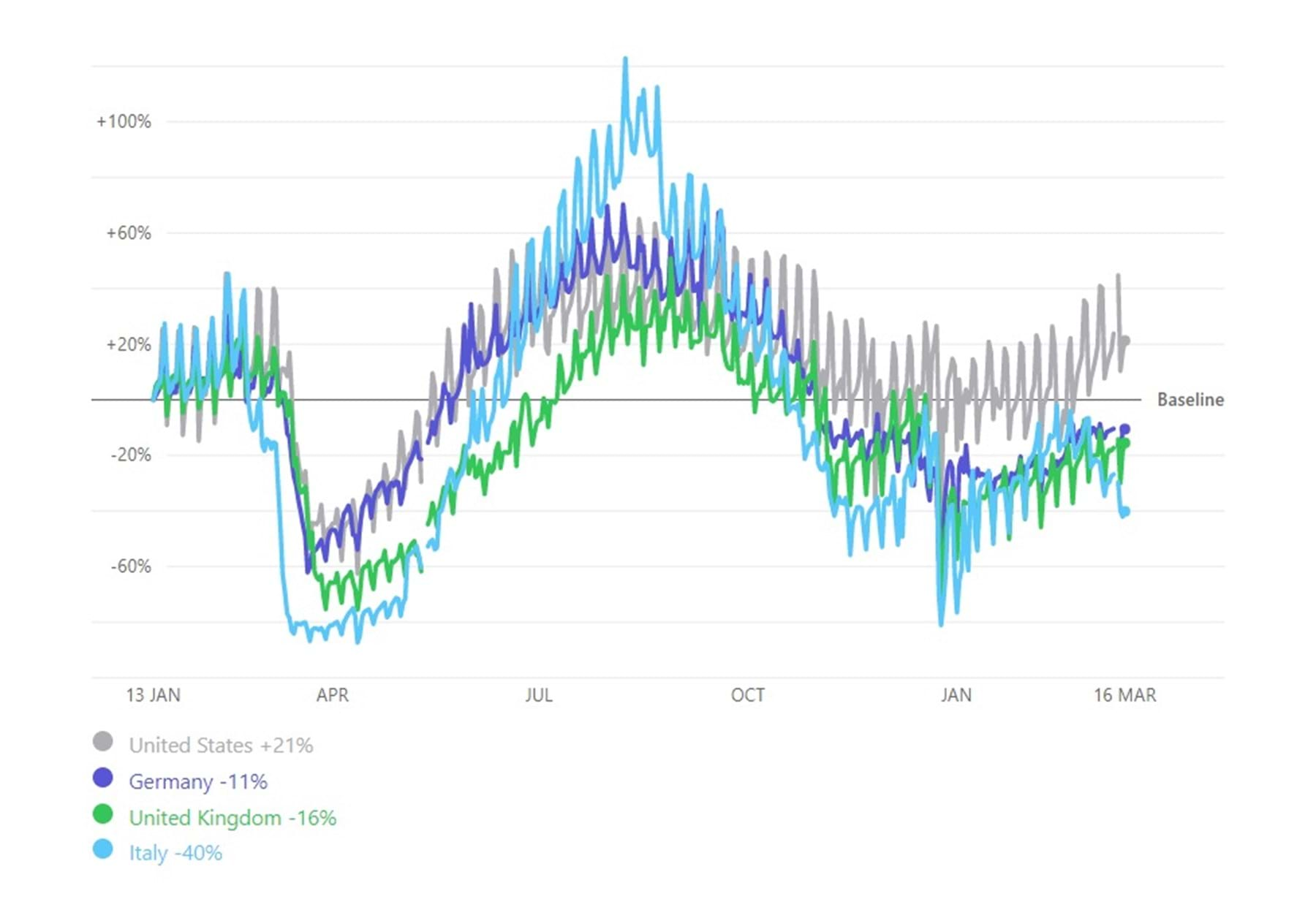 OpenTable, the restaurant booking service, similarly shows a pickup in activity this year. Visits to restaurants in the countries where it operates are running about 40% below 2019 levels, but in January they were about 60% lower.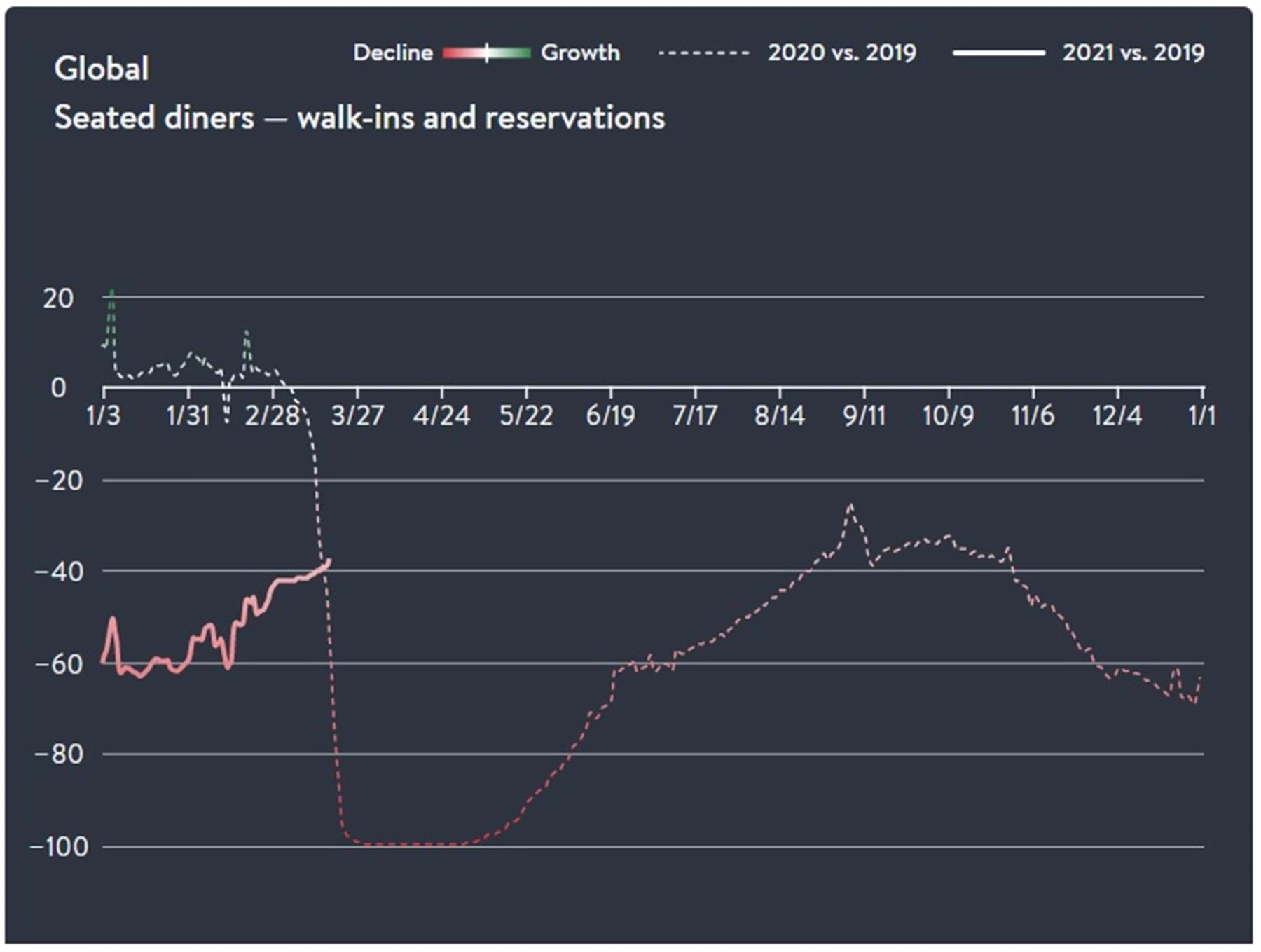 Hopes are growing that these improving trends will be sustained as the post-pandemic recovery takes hold. The Bank of England this week observed that global economic growth had been "a little stronger than anticipated", and predicted that the $1.9 trillion fiscal stimulus package passed in the US "should provide significant additional support to the outlook". The yield on 10-year US Treasury bonds has returned to pre-pandemic levels, reflecting a sense that the economy is starting to get back to normal.
As activity picks up, so does demand for energy. Oil demand in the current quarter has been running roughly in line with the first quarter of 2020, according to Wood Mackenzie's Macro Oils service, but for the rest of 2021 it is expected to be well above last year's levels. By the fourth quarter of next year, oil demand is expected to hit a new record high, above the previous peak in the third quarter of 2019.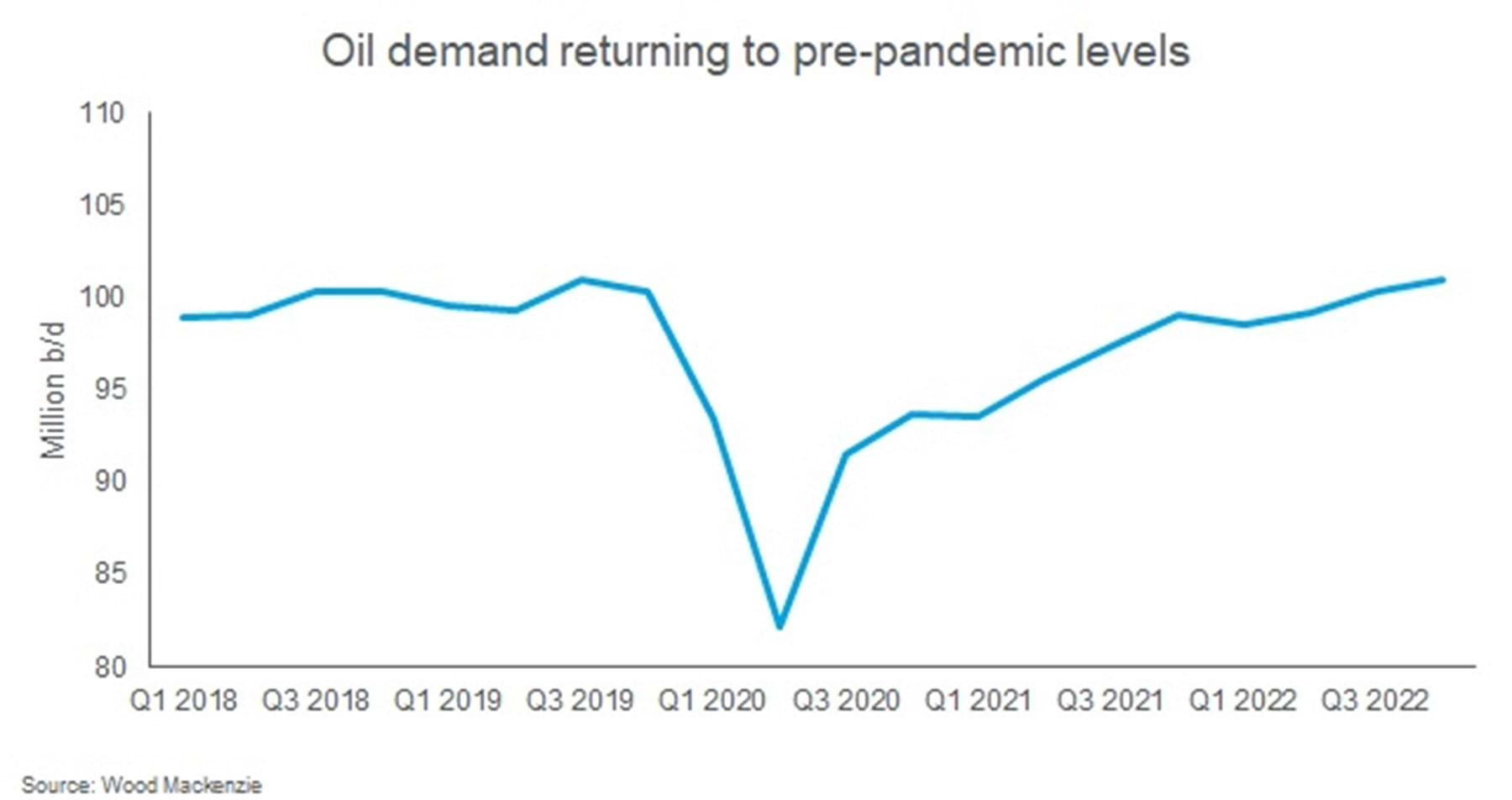 Demand for gas is also growing. Over 2020, demand was down only about 1% on 2019, Wood Mackenzie's Global Gas Tool shows. Low prices encouraged switching from coal to gas for power generation, and a warm summer in the northern hemisphere meant strong electricity demand for air-conditioning. By the second half of the year, gas demand was rebounding strongly in China and other countries in the Asia-Pacific region that successfully controlled the virus. After that slight decline in 2020, we are forecasting continued growth this year. Global gas is expected to rise by 2% in 2021, to a new record high.
The experience of past pandemics suggests that although they can have lasting impacts on society, they can very rarely outweigh the fundamental forces of economics and technology. While there will be bumps along the way, the projected recovery in energy demand over the next couple of years looks like being further evidence for that rule.
International agencies set out energy demand views
Two other views of the outlook for energy demand were set out this week by two government-backed bodies: the International Renewable Energy Agency, also known as Irena, and the International Energy Agency.
Irena published its World Energy Transitions Outlook, showing a pathway to an energy system that could limit the rise in global temperatures to 1.5 °C. The analysis is in some respects similar to the 1.5 °C Accelerated Energy Transition scenario that Wood Mackenzie published last month, but there are some noteworthy differences. Both scenarios make clear that a 1.5 °C pathway will require rapid growth in all low-carbon technologies, including renewables, hydrogen, storage and carbon capture, and both show that total global emissions need to hit net zero around 2050.
The Irena version relies more heavily on renewables, however, with 90% of the world's electricity coming from renewable sources by 2050, compared to a little under 70% in the Wood Mackenzie scenario. Carbon capture, conversely, plays a much greater role in Wood Mackenzie's scenario than in Irena's.
One of the most striking features of the Irena scenario is that demand for oil collapses over the next 30 years. Global oil production is projected at just 11 million barrels a day in 2050. In Wood Mackenzie's 1.5 °C scenario, world oil demand also falls sharply, but is still close to 30 million b/d in 2050, although on a declining trend.
A clear message from the Irena scenario, which comes across even more strongly than in Wood Mackenzie's version, is just how demanding these 1.5 °C pathways are. Achieving the necessary reductions in emissions requires massive changes to the global energy system in just three decades. Francesco La Camera, Irena's director-general, acknowledges the scale of the challenge in his introduction to the agency's report. "It will not be easy, but we have no choice", he writes.
Meanwhile, the IEA has published its Oil 2021 report, giving its view of the outlook for oil over the next five years. The suggestion that global gasoline demand is unlikely ever to return to 2019 levels garnered headlines, but the message for oil overall was quite different: consumption is still rising. By 2026, oil demand will have risen to 104.1 million b/d, the IEA projects.
In brief
The recriminations over February's disastrous blackouts in Texas have been continuing. Several bills aimed at fixing the weaknesses in the system are making progress through the state legislature. One issue that remains highly controversial, however, is the functioning of the Texas power market. Dan Patrick, the state's lieutenant governor, on Thursday urged Governor Greg Abbott to intervene to reverse billions of dollars of charges incurred when power prices rose to their $9,000 per megawatt hour maximum during the winter storm. Arthur D'Andrea, appointed chairman of the Public Utility Commission of Texas after the crisis, said on a call with investors that he would resist efforts to reprice electricity trades during the storm. Soon after that call was reported by Texas Monthly, Governor Abbott asked for and accepted D'Andrea's resignation, meaning that he had spent just two weeks in the post.
Meanwhile, US oil production, pipelines and refineries have continued to recover from the effects of the storm. One sector that was hit particularly hard is petrochemicals. Almost 5 million tons per year of monoethylene glycol manufacturing capacity was shut down, about 10% of total global capacity.
Shares in Volkswagen have been surging because of excitement over the company's strength in electric vehicles. VW this week held its Power Day, setting out its plans for battery development, including building by the end of the decade six "gigafactories" in Europe with a total production capacity of 240 gigawatt hours per year.
Geely, the Chinese car company, is planning to launch high-end EVs under a new marque called Zeekr, with the aim of taking on Tesla.
A new project has been launched to create Canada's first zero emissions vehicle.
Mitsubishi Power is developing a 40 MW gas turbine that can burn 100% ammonia, a potential zero-carbon fuel.
BP has announced plans for the UK's largest "blue hydrogen" project in north-east England, making hydrogen from natural gas and capturing the resulting carbon emissions.
Nuclear power generated more electricity in the US than coal-fired power plants for the first time ever last year.
The US government is evaluating information on companies working on the Nord Stream 2 gas pipeline from Russia to Germany, and will enforce measures against them as mandated by recent legislation, the State Department has said. Antony Blinken, secretary of state, said in a statement: "Any entity involved in the Nord Stream 2 pipeline risks US sanctions and should immediately abandon work on the pipeline".
And finally: some bad news about cow burps. It is well known that the methane in belching and flatulence from cattle is one of the most significant sources of greenhouse gas emissions from farming. There is a considerable amount of research effort going into examining whether changes to cows' diet could reduce their emissions, and recently there has been some optimism about the use of seaweed, encouraged by positive experimental results.
However, Matthew Hayek and Jan Dutkiewicz, two academics writing in Wired magazine, argue that seaweed is unlikely to be a practical solution, in part because of the difficulty of scaling up. "To actually have a meaningful impact, we'd have to find a way to cater algae to most of the world's 1.5 billion cows, including 100 million in the US alone," they write. There is also the problem that cows just don't like eating algae. If grass is available, they will eat that instead, with all the methane-rich burps and farts that ensue.
Quote of the week
"Effective as of March 15, 2021, the titles of Elon Musk and Zach Kirkhorn have changed to Technoking of Tesla and Master of Coin, respectively. Elon and Zach will also maintain their respective positions as Chief Executive Officer and Chief Financial Officer." — Elon Musk, Tesla's founder and chief executive, used a filing to the Securities and Exchange Commission to announce jokey new titles for himself and his CFO. It is naturally tempting to see this kind of stunt as juvenile time-wasting. But it is also arguable that Musk's performance as a showman and entertainer is a key factor in helping Tesla's share price retain its stratospheric valuation.
Chart of the week
This comes from a fascinating new report on China's push for energy independence, from Wood Mackenzie's Huang Miaoru, Zhou Yanting and Gavin Thompson. Over the past decade, China has gone to enormous lengths to increase ownership of and access to battery raw materials, from cobalt resources in the Democratic Republic of the Congo to lithium reserves in Chile and Indonesian nickel mines. The result is that China now controls significant shares of global supplies for some critical metals, and has positions there that are much stronger than for either oil or gas production.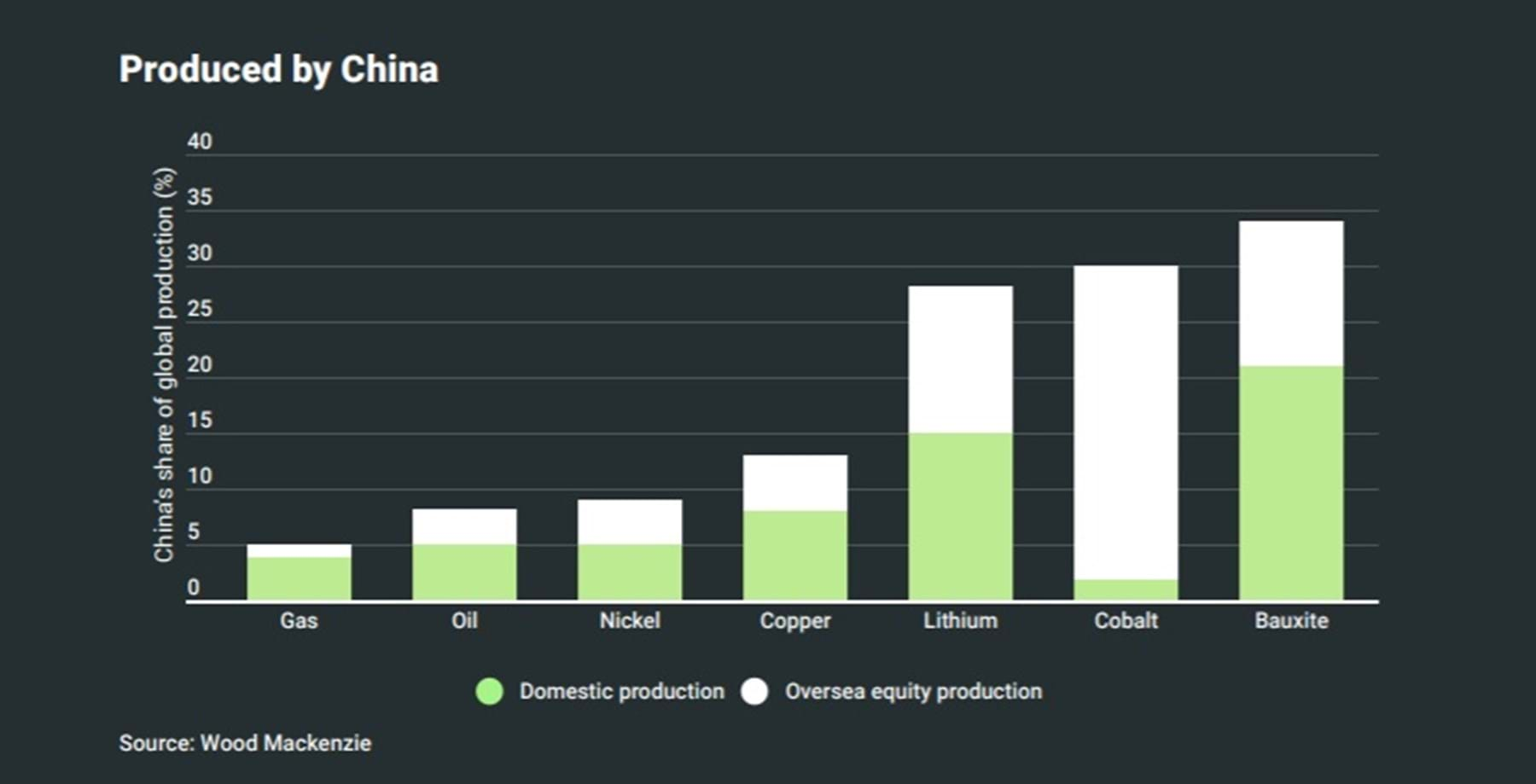 Source: Wood Mackenzie